COLLAB FEST
Saturday, September 28
7:30pm
The SP▲CEB▲BE Aesthetic
$18 in advance / $22 at the door*
SP▲CEB▲BE, a trans-galactic entertainment entity and all-around lover-girl,
is your personal guide through network nightlife's worst B-movies, infomercials, and hare-brained television!
A nostalgic romp through a distorted memory of
proto-consumerism…
A nostalgic romp through a distorted memory of proto-consumerism, Spacebabe leads our audience down a rabbit hole of cassette futurism and mallsoft muzak with the hazy aesthetics of adolescence in an emerging hyper-networked cyber world.
A plunderphonics of digital vignettes are loosely tied together by live and pre-recorded performances that will move the space through flickering transmissions of a late night lo-fi cable movie marathon circa 1993.
Traditional drag performances are accented with projection art and sound design, as well as modern dance, custom lighting, and interactive stage elements that bring the audience into the event.
Performers will guide our patrons from party to performance and back again, leaving our dear spectators-come-collaborators to beg the questions 'What the hell was that?', 'Who is Spacebabe?', and 'Where are my keys?'.
Jeff Poulin, the NYC-based drag artist and performer, created Spacebabe in 2016 for the famed BUSHWIG festival You can currently catch Spacebabe at a number of shows, most notably her monthly party The Sunday Aesthetic with Spacebabe, the first Sunday of each month at Sanger Hall in Sunnyside Queens.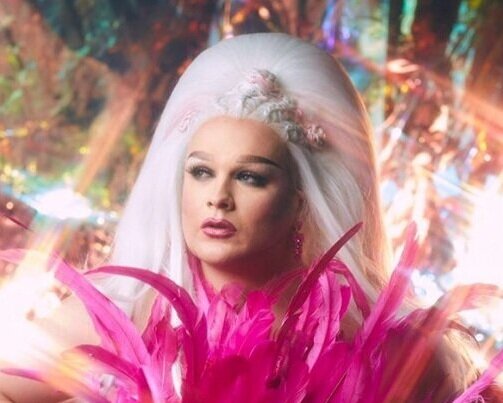 A fixture in NYC nightlife, Misty has performed all over the city and beyond. In addition to achieving Hall of Fame for the Brooklyn Nightlife Awards, Misty has worked in television, film, and continues to host a myriad of events. You can currently catch her in a residency at Macri Park on Tuesdays and Fridays.
Viva Vidalia is NYC's Premiere plus sized mover and shaker Queen. She is based out of Brooklyn and has made a name for herself with her high energy dancing, bewitching live vocals, and wildly colorful wardrobe. You can also see her fashion designs on many performers around the world as well on popular tv shows such as Rupaul's Drag Race, Dragula and Camp Wannakiki.
Patrick Ferreri is a Brooklyn based artist and arts educator who began his dance training at the age of 5, received a BFA in dance from NYU at the age of 20, and is now exploring an ever-evolving career in the age range of 30-35. Patrick spent three years performing Off Broadway in Punchdrunk's production of Sleep No More and has toured nationally and internationally with numerous dance companies.
THIS EVENT CONTAINS ADULT LANGUAGE AND CONTENT. IT IS NOT SUITABLE FOR ANYONE UNDER THE AGE OF 18 AND MAY NOT BE SUITABLE FOR ALL ADULTS.